---
The offer is over

12
people are looking at this product right now 👀
---
JoJo Menacing Shirt
Discover the best selling JJBA Tee with our splendid JoJo Menacing Shirt specially designed to help you beat even the most powerful stand users !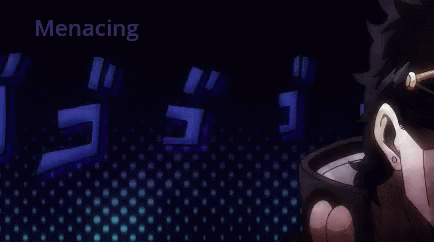 This JoJo Menacing T-Shirt features the famous Menacing Text "
ゴゴゴゴ " 

featured in the manga JJBA when a character wants to put pressure on his opponent !

 
Jojo's Bizarre Adventure Premium T-Shirt

: This anime apparel is a premium edition of only the best designs of the JJBA anime series!
Soft and comfortable: Made with premium materials such as Premium Modal Cotton and Polyester fibers, this T-Shirt is made to last and is very pleasant to wear
Breathable material: This product can be worn all seasons of the year without any inconvenience on your skin
Universal Sizing: This apparel fits perfectly to any women or men body

3D High-Definition Design on the front

Machine washable at 30°C (86°F)

FREE Worldwide Shipping
To choose a size, please refer to the size chart. This product sizes smaller than average EU/US sizes, therefore the Jojo's Bizarre Adventure Team advises you to take a size 1 time larger than usual on this product